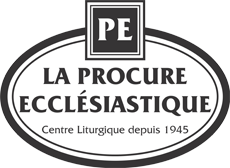 |
|
My Account

Some services are not accessible on a smartphone.

|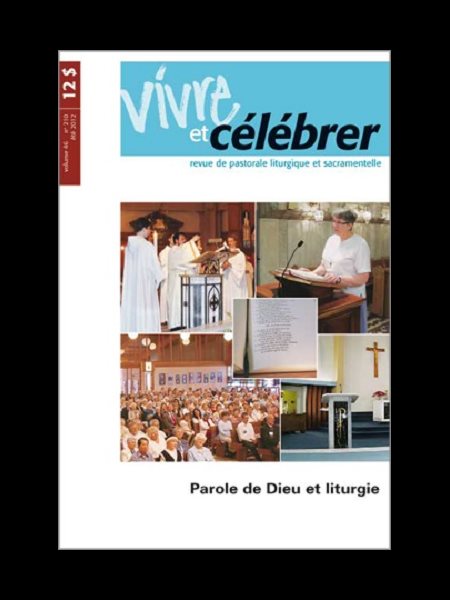 Double-tap and hold to zoom.
Mouse over the image to zoom.
French book
Product Code: 181421R
« Parole de Dieu et liturgie »

« Souvent, dans le passé, Dieu a parlé à nos pères par les prophètes sous des formes fragmentaires et variées, mais, dans les derniers temps, dans ces jours où nous sommes, il nous a parlé par ce Fils… » (Hé 1,1-2b). Ces mots résonnent au matin de Noël, comme en écho à la venue du Fils de Dieu. Ce Fils n'est pas seulement une voix, mais aussi un visage, en Jésus de Nazareth. La parole de Dieu s'est faite enfant pour nous devenir accessible. Ainsi, le christianisme n'est pas une religion du Livre, mais de la parole de Dieu, Verbe incarné et vivant, Jésus le Christ.

Ce numéro de Vivre et Célébrer revisite la posture de la parole de Dieu dans la célébration liturgique, à la lumière de l'exhortation postsynodale, Verbum domini. Mgr Yvon Joseph Moreau mettra en lumière le lien intrinsèque entre la vie spirituelle et les textes bibliques proclamés en liturgie. Alain Faucher présentera avec limpidité la teneur proprement liturgique de cette exhortation du magistère romain. Avec Marie-Josée Poiré, nous poursuivrons notre réflexion sur les liturgies de la Paroles proposées dans quelques rituels, notamment le RICA, celui de la pénitence et de la réconciliation, et celui des sacrements des malades. Qui dit liturgie de la Parole, dit proclamation de cette Parole : Jean-François Bouchard offrira une réflexion sur le sens du ministère du lecteur. Mgr Louis Dicaire redira en toute simplicité que la Parole ne doit pas se limiter à la célébration, elle doit pouvoir porter des fruits. N'oublions pas que la Bible est sur la toile : nous présentons in fine le site Internet de l'Association épiscopale liturgique pour les pays francophones (AELF), un outil fort bien conçu pour découvrir les textes bibliques.

Les fiches de travail de nature pratique présentent le service à l'autel, le lieu habituel de la proclamation de la parole de Dieu dans une église, le livre liturgique de la Parole appelé évangéliaire et une méthode de prière à partir de la Parole.

Les chroniques proposent le témoignage du seul prêtre québécois délégué au Synode romain sur la parole de Dieu qui s'est tenu en octobre 2008. Également, un récit à deux voix sur la célébration d'au revoir adressé à l'évêque qui prend sa retraite ou qui accepte une autre charge pastorale. Enfin, nous proposons une entrevue avec Mgr Raymond St-Gelais, évêque émérite de Nicolet. Au lendemain de son départ, quel regard porte-t-il sur la liturgie en général et sur la célébration de la Parole au cours de laquelle les diocésains lui ont adressé leur reconnaissance?

Alors que l'été pointe à l'horizon de nos saisons et nous convie à célébrer la beauté de la vie, gardons en mémoire que le Christ lui-même « est là présent dans sa Parole alors que sont lues dans l'Église les Saintes Écritures » (Constitution sur la sainte Liturgie, art. 7). Que cette Parole soit savoureuse et qu'elle goûte bon la vie du Ressuscité.