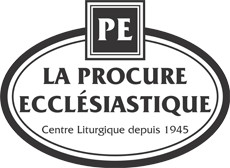 |
|
My Account

Some services are not accessible on smartphone

|
Press and move to zoom.
Mouse over image to zoom.
French book
Product Code: 215422
Par : JUGAN, JEANNE / Éditeur : MÉDIASPAUL FRANCE / Pages : 120 / Parution : 2020-05-29

Même si, aujourd'hui, beaucoup de pauvretés sont prises en charge par les institutions publiques, la charité qui a inspiré l'action de Sainte Jeanne Jugan, reste un moteur d'initiatives privées et de réponses à des besoins nouveaux.
Jeanne Jugan (1792-1879), la fondatrice des Petites Sœurs des Pauvres, congrégation présente aujourd'hui sur les cinq continents, a presque 50 ans quand, un soir de 1839, elle écoute l'appel de l'Esprit à aider une pauvre dame âgée, aveugle et infirme, qui se meurt de froid. Elle la prend chez elle, dans son humble logis. Bientôt, elle en recueille une autre, puis une troisième, ainsi naquit la congrégation des Petites Sœurs des Pauvres.
Jeanne Jugan est alors une simple servante. Elle se révèle une femme d'action, animatrice de la communauté de sœurs qui se rassemble autour d'elle et qui l'élit supérieure. Peu de temps après, elle sera destituée brusquement de cette charge.
D'origine modeste, elle n'a pas laissé d'écrit sinon sa signature en une seule occasion. Mais par son amour de Dieu et des pauvres, elle a inspiré à de nombreuses jeunes filles de suivre son exemple.
Se nourrir d'Une pensée par jour avec Jeanne Jugan, c'est découvrir le feu intérieur qui a impressionné les personnes qui la côtoyaient.
Ses paroles, ou des témoignages, rapportés par celles et ceux qui l'ont rencontrée ou ont vécu avec elle, sont les sources des citations.
Il en ressort une grande bonté, un souci de la bientraitance des personnes les plus démunies, et de leur accompagnement jusqu'à cette phase délicate de la fin de leur vie. Sujets encore éminemment actuels dans la société contemporaine.

- Des témoignages édifiants sur la personnalité de Jeanne Jugan.
- Des thèmes anciens qui se révèlent d'une étonnante actualité.
- Une figure féminine peu connue, véritable femme d'action tournée vers les autres.
- NOUVEAUTÉ : l'ouvrage inclura un index thématique pour faciliter une recherche par centre d'intérêt des lecteurs.

Cet ouvrage est le fruit d'un travail collectif de la congrégation des Petites Sœurs des Pauvres.