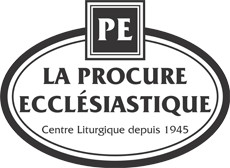 |
|
My Account

Some services are not accessible on smartphone

|
Press and move to zoom.
Mouse over image to zoom.
French book
Product Code: 215415
Par : KURICHIANIL, JOHN / Éditeur : MÉDIASPAUL FRANCE / Pages : 264 / Parution : 2020-05-29

La prière est partie intégrante de toute vie spirituelle, elle en est même l'ossature, ce qui permet de structurer notre vie et de l'orienter de manière juste, apaisée, le plus possible en accord avec l'esprit de Dieu. Toutefois, prier n'est pas si aisé qu'il y paraît, et malgré notre bonne volonté, nous ne savons pas toujours quand et comment procéder, que dire à Dieu et pourquoi le lui dire. Le père John Kurichianil, abbé de l'abbaye bénédictine de Kappadu (Kerala, Inde) nous aide, à travers cet ouvrage, à donner de la consistance à notre prière grâce à un éclairage biblique très pertinent. En recourant uniquement à des textes de l'Écriture, bien souvent tirés de l'Ancien Testament, il nous montre comment, pourquoi et dans quelles circonstances des communautés ou des individus prient Dieu, lui livrent le contenu de leur cœur en fonction de ce qu'ils ont à vivre.

À travers ces récits bibliques, parfois mal connus, nous entrons en communion avec tous ceux qui nous ont précédés, dans l'intimité de leur relation à Dieu. Tout se passe alors comme si Jérémie, Élie, David, Anne ou encore Marie, et bien sûr Jésus, nous livraient leur propre expérience de prière, et c'est cette expérience, finement étudiée par l'auteur, qui vient alors nourrir la nôtre. Dans cet ouvrage, point de recettes ni de méthodes infaillibles pour prier, mais la proposition essentielle d'un ancrage profond dans le socle de la Parole de Dieu, autour du thème de la prière. À chacun ensuite de laisser ces paroles éternelles le toucher, le pénétrer et orienter de manière nouvelle sa relation intime à Dieu. Une chose est sûre : on ne prie plus de la même manière avant et après avoir lu ce livre.

- Une aide spirituelle, authentique et efficace pour tous ceux qui désirent prier en vérité.
- La méditation directe des textes bibliques sur le thème de la prière. L'approche est à la fois simple, rigoureuse, documentée et très claire. La Parole de Dieu révèle alors toute sa puissance sans filtres trop savants.

John Kurichianil (OSB) est prêtre et moine bénédictin depuis plus de cinquante ans. Il a fait ses études de théologie au séminaire St Peter de Bangalore et s'est spécialisé en Écritures Saintes à l'Institut Biblique Pontifical de Rome. Il a enseigné dans de nombreux instituts de théologie en Inde, pays où sa notoriété est certaine. À la fin des années 1980, avec deux autres moines, il a fondé le premier monastère bénédictin de rite syro-malabar à Kappadu (Kerala) monastère jeune et florissant dont il est devenu le père abbé. Il y mène une vie simple, de travail, de prière et d'étude de la Parole de Dieu, dans une grande fidélité à l'esprit de St Benoît. Il a publié de nombreux ouvrages en anglais, tous centrés sur une approche strictement biblique, conforme à la tradition d'exégèse bénédictine de lectio divina.