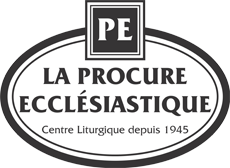 |
|
My Account

Some services are not accessible on a smartphone.

|
Double-tap and hold to zoom.
Mouse over the image to zoom.
French book
Product Code: 094955
par Yves Congar / Novalis / Date de publication: 2018-06-18 / Nombre de pages: 240

En rassemblant des textes préconciliaires qui ont servi de socle à l'élaboration de la pensée du réformateur, ce livre nous offre, avec un appareil critique précis et accessible, une brève plongée dans l'imagination théologique de Congar, et par là dans ce qui fait le cœur de la liturgie chrétienne. Il nous permet de saisir à la fois la transformation radicale des croyants par la vie sacramentelle et le rayonnement évangélisateur d'un peuple qui vit en solidarité avec sa tête divine, le Christ. Lecteur attentif des Écritures et des pères de l'Église, et théologien scrupuleux, à la fois historien et sociologue, à la fois fervent défenseur de la Tradition et sensible à la nécessité d'un renouvellement de l'institution, Yves Congar représente l'un des plus sûrs témoins de l'enseignement pastoral et théologique de l'Église catholique. Ces réflexions, si elles appartiennent à une autre réalité ecclésiale, remettent également en perspective les orientations du Concile qui ont façonné l'Église d'aujourd'hui, car, pour Yves Congar, le culte chrétien est la manifestation visible de la réalité spirituelle de l'Église.